Electronic Locks (Keyless)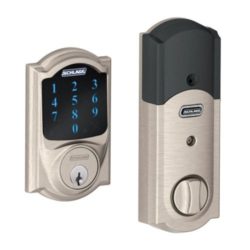 The days of worrying about your safety are over.
Introducing JF Locksmith's new line of electronic locks.
Our electronic (Keyless) locks are designed to give you the highest level of control over your building security.

Coming in multiple variants - right from touchpad locks to smart key locks, our wide range of keyless locks are sure to make life easier for you.
Want to prevent someone from coming in? Control your brand new JF Locksmith lock remotely and initiate a lockdown.
Our electronic (Keyless) locks can sense user movement and can monitor obstructions, ensuring that the door does not close on you.
Extremely sleek and classy, ​​fully-fingerprint resistant and with the option of adding touch screen facility, our electronic locks are extremely beautiful and very easy to use.
They will certainly meet the criteria of your security check-list with ease.
Speak to us for more information. Our team can help you select a smart lock from our collection.