Door Handles & Dead Bolts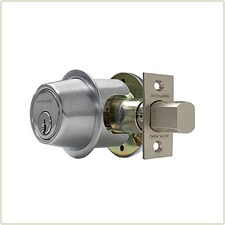 Explore the elegant and classic collection of door security devices and accessories right here at JF Locksmith.
Our extensive selection of door handles will not only give your door the additional layer of security it can benefit from, but it will also make your door wonderfully aesthetic.
We also have in our collection of door accessories, superior-quality deadbolts, made from extremely hard-wearing materials.
Completely damage-proof, they can withstand the test of time, giving your door the support it needs to keep you and your property safe.
Our collection of door handles and deadbolts come in clean, architecturally-inspired designs.
Complement your building's unique look with our products and elevate your home/office's aesthetics.
Rest assured, once installed, our door handles and deadbolts will never look out-of-place.
We have numerous designs of door handles and deadbolts on our website.
Be sure to speak to a member of our team for help in making a choice.